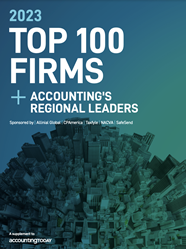 "Despite staffing shortages, heightened competition and uncertain economic conditions, these firms have displayed resilience by making strategic decisions that have paid off. They have grown by 18.55% in 2022 at a rate that is three to four times larger than the previous year."
NEW YORK (PRWEB) March 14, 2023
Accounting Today, Arizent's essential resource for public accountants, has announced its annual Top 100 Firms list, along with its Regional Leaders rankings. This recognition program, which has been published for almost thirty years, reveals that public accounting firms have experienced substantial growth in 2022.
"Despite staffing shortages, heightened competition and uncertain economic conditions, these firms have displayed resilience by making strategic decisions that have paid off." Daniel Hood, Editor-in-Chief of Accounting Today, says. "They have grown by 18.55% in 2022 at a rate that is three to four times larger than the previous year."
Their growth strategies involved a strong focus on recruiting and retaining top talent, pursuing mergers and acquisitions and adding or enhancing high-value advisory services. These firms have also embraced technology for automation and new services, while sharpening their marketing efforts and reexamining their client lists to ensure they are serving the right clientele.
The leading firms from the list ranked by net revenue management are:
Deloitte – $27,936.00 M

PwCs – $20,731.001 M

Ernst & Young – $19,110.00 M

KPMG – $11,440.00 M

RSM US – $3,595.34 M

BDO USA – $2,490.40 M

Grant Thornton – $2,310.36 M

CLA – $1,663.00 M

Forvis – $1,487.00 M

Baker Tilly – $1,407.20 M
"This year's report indicates that some firms, like Deloitte and PwC, have maintained the same rankings from last year while increasing their net revenue," Hood adds. "At the same time, four different firms have crossed the billion-dollar threshold."
The Top 100 Firms list also includes Regional Leaders rankings that represent the biggest firms in 10 specific sections of the United States, including New England, the Great Lakes, the Gulf Coast and the Midwest. Each region experienced an average firm growth rate that ranged from 10.52% to 20.5%.
2023's rankings reveal a number of new players in the different regions, even as more established firms combined to form national players, like the newly established Forvis, which was created from Southeast Regional Leader DHG and Midwest Regional Leader BKD.
The complete list and their stories can be read here:

https://www.accountingtoday.com/the-top-100-firms-and-regional-leaders2023
About Accounting Today
Accounting Today is the leading information resource for public accountants – serving the community of professionals who provide tax preparation, bookkeeping, auditing, financial planning, and business advisory and consulting services to individuals and small businesses. Accounting Today is sharply focused on the industry's most important concerns, including tax law, accounting standards, technology, audit and assurance, and wealth management.
About Arizent
Arizent is a business information company that advances professional communities by providing insights and analysis and convening industry leaders. The company uses deep industry expertise and a data-driven platform to deliver its services, which include subscriptions, marketing services, live events and access to Leaders, an executive forum. Arizent also connects business communities through leading financial services brands like American Banker, The Bond Buyer, Financial Planning and National Mortgage News, as well as professional services brands like Accounting Today, Employee Benefit News and Digital Insurance.
Share article on social media or email: