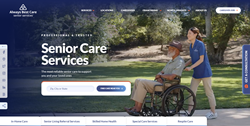 "Now, it's easier than ever for seniors and caregivers to connect with the services they need, and for their franchisees to broaden community outreach."
ROSEVILLE, Calif. (PRWEB) March 30, 2023
Of the over 65.7 million Americans who receive care services, many prefer to age in the comfort of their own home, if it is still feasible.
It's often the responsibility of these individuals and their loved ones to connect with the right agency for services. However, with the mental and emotional impact of medical events or transitioning from a more independent lifestyle, it can be difficult to know where to begin.
Always Best Care launched the latest step in their efforts to provide the most convenient, reliable senior care services with desktop and mobile website experiences designed to be completely fresh, easy to navigate, and enjoyable to use.
Seeking quality care services for loved ones has enough day-to-day challenges. Always Best Care's new digital presence helps simplify the process with redesigned features such as:
a user-friendly, accessible experience for both desktop and mobile users
a simplified user journey for our franchisee websites to help them better reach those who are seeking local services
eye-catching links to easily request a consultation and get support
an overall more modern look and feel with updated typography, colors, graphics, and more
Users can quickly view local agencies by entering the client's state and ZIP code at the top of the homepage. A simple scroll presents Always Best Care's unique benefits, testimonials from clients and caregiver employment opportunities, and simple tab navigation for services like:
The redesign also makes it easy to access news and insights, caregiver career opportunities, and franchising resources for those who would like to learn more or become an Always Best Care franchisee.
The Always Best Care family has always been dedicated to innovation and improvement in senior care and support. Now, it's easier than ever for seniors and caregivers to connect with the services they need, and for their franchisees to broaden community outreach.
About Always Best Care
Founded in 1996, Always Best Care Senior Services is based on the belief that having the right people for the right level of care means peace of mind for the client and family. Always Best Care has been assisting seniors with a wide range of conditions and personal needs for over 25 years and currently provides thousands of hours of care every year. Franchise opportunities are available to individuals interested in leveraging the company's clear strategy and proven track record for delivering affordable, dependable service to seniors in their local areas.
Always Best Care also offers exclusive programs such as Always in Touch, Balance Tracking System and remote patient monitoring. For more information regarding Always Best Care's solutions, visit http://www.alwaysbestcare.com.
Share article on social media or email: