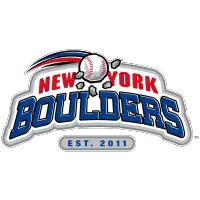 March 31, 2023 – Frontier League (FL) – New York Boulders News Release
Rockland County, NY – Individual game tickets for the New York Boulders' 2023 season go on sale this Monday, April 3, and can be purchased at the box office starting at 9:00 am, or online at NYBoulders.com. Tickets can be purchased for as little as $10 and feature premium nights such as our 12 post-game Fireworks shows, including Opening Night (May 11), July 3, and July 4.
Fans can expect their familiar favorites as well as a new game experience this season at Clover Stadium, with the Frontier League's implementation of pace-of-play rules utilized officially for the first time in Major League Baseball's Opening Day, featuring prominent pitch clocks.
While the fan-favorite fireworks festivities will return, there will also be a different look – and sound – to the post-game displays. In an effort to further reduce noise pollution for the surrounding community, shows will focus less on sound and more on light, and fireworks will be shot lower in the air to maximize visibility within Clover Stadium.
Our new Premium Seating will be available for the first time, encompassing seats in the front rows from dugout-to-dugout, providing an exceptional viewing opportunity. Family-friendly Value Packs for select games will also be available, and fans can select dates with our new multi-game Party Packs.
With Clover Stadium's suite, loge box, and premium group areas, there's something for everyone as the Boulders set their sights on another successful season and a return to the Frontier League post-season. For more information visit nyboulders.com, or call 845-364-0009 during business hours.
Debuting in 1993, the Frontier League is the largest and longest-running of the modern independent leagues and features teams stretching from the Atlantic Ocean to the Mississippi River and from the Ohio River to the St. Lawrence Seaway. In September of 2020, the Frontier League became an official "Partner League" with Major League Baseball.
More information can be found at www.frontierleague.com.
• Discuss this story on the Frontier League message board…
The opinions expressed in this release are those of the organization issuing it, and do not necessarily reflect the thoughts or opinions of OurSports Central or its staff.

report this ad