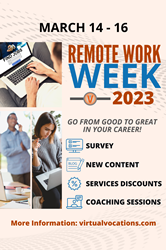 "Career transitions are tough to navigate. For our eighth annual Remote Work Week, our goal is to offer guidance and success strategies to anyone who wants to go from good to great in their career." –Laura Spawn, CEO and co-founder of Virtual Vocations
TUCSON, Ariz. (PRWEB) March 14, 2023
Virtual Vocations is celebrating Remote Work Week 2023 with exclusive telework content and resources, limited-time discounts on remote job board memberships and career services, giveaways, and more for anyone curious about fully virtual employment or making a career pivot to embrace the flexibility of working remotely.
From March 14–16, 2023, the company is marking Remote Work Week with an event highlighting career transitions, whether they involve changing roles within an industry, upskilling to explore a new career, or trading the on-site grind for fully remote work.
Laura Spawn, the CEO and co-founder of Virtual Vocations, recognizes the challenges jobseekers face when considering a career transition. "Career transitions are tough to navigate. For our eighth annual Remote Work Week, our goal is to offer guidance and success strategies to anyone who wants to go from good to great in their career."
Among the career transition solutions Virtual Vocations will make available for its Remote Work Week 2023 celebration is the company's "Career Change Questions Worksheet." This is a premium fillable PDF guiding jobseekers through 19 questions to help them determine if a career transition is the right move. Additionally, it will assist jobseekers in gaining clarity and insight into their future career goals.
Virtual Vocations is also releasing new blog content throughout the 72-hour celebration, including a guide to making a career pivot, suggestions for breaking down remote work barriers with more effective productivity strategies, and the latest fully remote job postings from Virtual Vocations' network of Employer Partners—vetted businesses and organizations that work directly with the company to share their fully remote job vacancies with Virtual Vocations members and subscribers.
The banner event for Remote Work Week 2023 is a three-part job coaching series tackling everything jobseekers need to know about career transitions, including the following daily topics:

[3/14] Career Transitions & Starting the Process
[3/15] Reinvent Your Brand to Find Your Dream Job
[3/16] Finding a Profitable Encore Career
Hosted by Virtual Vocations' Career Services Division Manager Holly Leyva and certified resume writer and coach Paige Judnich, these webinars will be available daily at 1 p.m. ET. According to Virtual Vocations' CEO, "This career transitions job coaching series is meant to provide remote jobseekers with actionable steps to take when deciding if a career pivot should be their next step.
During Remote Work Week 2023, Virtual Vocations will also ask workers to weigh on career transitions and how likely they would be to make a change in order to be more satisfied with their work. After all, workers may change jobs as many as 12 times throughout their professional journeys. Those who complete the short survey for Remote Work Week will be entered to win one of three prize packages valued at up to $350.
March 14–16, Virtual Vocations will also offer substantial discounts of up to 40% off new memberships and up to 30% off career services, like resume writing and one-on-one career coaching with credentialed experts.
To learn more about Virtual Vocations and find out how you can get involved in celebrating Remote Work Week 2023, including taking the career transitions survey or registering for the three-part job coaching series, visit the event page: https://www.virtualvocations.com/blog/remote-work-week-2023-8th-annual-event-hosted-by-virtual-vocations/
ABOUT VIRTUAL VOCATIONS

Founded in 2007 by CEO Laura Spawn and her brother, CTO Adam Stevenson, Virtual Vocations is a small company with a big mission: to connect jobseekers with legitimate remote job openings. To date, Virtual Vocations has helped more than four million jobseekers in their quests for flexible, remote work.
In addition to providing a database of current, hand-screened, and 100% remote job openings, Virtual Vocations offers jobseekers a number of tools to aid in their job searches, including exclusive career courses, downloadable jobseeker content, and career coaching and resume writing services. Virtual Vocations also releases several data-driven reports each year on current trends in remote work.
Virtual Vocations, Inc. is a private, family-owned, and 100% virtual company incorporated in Tucson, Arizona.
PRESS INQUIRIES

Kimberly Back

kim(at)virtualvocations(dot)com

VirtualVocations.com
Share article on social media or email: