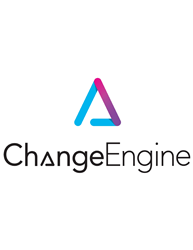 Today, we're thrilled to announce the CommunicationLibrary, including visuals that employees are 6x more likely to remember versus written or verbal communications…
SAN FRANCISCO (PRWEB) March 21, 2023
Today, ChangeEngine, the innovative workplace technology solution that enables companies to discover, design, and deliver the employee moments that matter most, announced the launch of its new public-facing library, the CommunicationLibrary. The CommunicationLibrary has distilled unique insights learned from forward-thinking HR/People & Marketing practitioners on their advisory network, and serves as an unpaid creative design, copywriting, and campaign ideation tool that democratizes access to effective internal communication templates within a few clicks.
The latest addition will allow companies of any industry & size to generate custom-branded templates and content for the most popular & trending employee-facing programs, including employee advocacy, manager coaching, DEIB, onboarding, health & wellness, parental leave, holidays, corporate social responsibility, retention, and more. Users can type their company name into the library's search engine to unlock thousands of hand-curated graphic designs & templates that automatically incorporate their company's brand kit & guidelines.
"The expectations of HR & People leaders have skyrocketed in the past three years with the pandemic and highly-distributed workforce. We've spotted a major gap that HR professionals are expected to launch & sustain 15-20 programs per year, yet they're not marketers, designers, or copywriters by trade. There's a high volume of burnout in the industry resulting from too many internal demands and not enough budget, bandwidth, or resources. We've taken best practices learned from working with enterprise companies with dedicated Centers of Excellence, and we're making them available to small to mid-sized businesses that seek to augment their lean teams," said Co-founder and CEO of ChangeEngine, Andrew Higashi. "We're excited to introduce this new initiative and empower individuals & teams with access to our public library."
The CommunicationLibrary bridges the gap between HR/People and Marketing teams who share the responsibility of upleveling their internal communications. It allows users to opt for professional, casual, & direct copywriting tones, choose from an array of on-brand visual designs, and generate ideas & inspiration for their internal campaigns."
Today, we're thrilled to announce the CommunicationLibrary, including visuals that employees are 6x more likely to remember versus written or verbal communications," said Co-founder & Chief Product Officer, Kes Thygesen. "Each program should be seen as an internal campaign that requires its own bespoke content, internal communications, creative design, launch plan, reinforcement strategy, and manager/executive buy-in with the goal of achieving 60-70% employee adoption rates. We believe this is a major step in the right direction for such an underserved market, and hope that companies take full advantage of the CommunicationLibrary to share captivating & inspirational content with their employees."
ChangeEngine is doubling down on brand awareness, distribution, and new customer acquisition channels. Their public CommunicationLibrary democratizes easy-to-use content & templates, while their annual paying customers are reaping the benefits of personalization, delivery automation, tracking, and other premium functionality driven from HRIS, Slack/Teams, Email, SMS/Text, and Single Sign-On integrations, alongside their robust Customer Success resources.
About ChangeEngine
Founded in 2021, ChangeEngine is a 'future of work' company that enables individuals and teams to discover, design, and execute employee-facing initiatives. With ChangeEngine, companies can attract & retain top talent, increase the adoption of key employee initiatives, and save hundreds of hours via internal communications automation. ChangeEngine boasts a robust suite of integrations embedded across a wide range of systems of record. ChangeEngine was co-founded by Andrew Higashi (CEO), Kes Thygesen (CPO), Gaurav Saini (CCO), and Rick Tank (CTO) and is headquartered in San Francisco, CA with offices in London and LatAm. To learn more about ChangeEngine, visit https://www.changeengine.com/
Share article on social media or email: