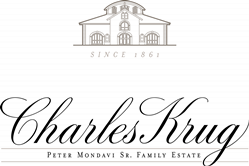 "As we pass the business on to our fourth generation and they to the next, it is vital to continue this vision – to foster environmental stewardship of the land," says Marc Mondavi, Co-Proprietor.
ST. HELENA, Calif. (PRWEB) March 15, 2023
Charles Krug Winery, which was built on 80 years of the Mondavi family's legacy of respect for the land, is excited to partner with Napa RISE to further solidify its commitment to fostering environmental stewardship and preserve the Napa Valley. The C. Mondavi & Family winery is donating its estate property for Napa RISE to use for its upcoming symposium and is a proud premiere sponsor of the event. As the winery looks to pass on its legacy of high-quality winemaking to future generations, environmental conservation remains an essential element of their philosophy.
Napa RISE, Resilience, Innovation, Sustainability, Empowerment, is a six-event symposium organized around the six pillars of sustainable winegrowing leadership. Various speakers from the Napa Valley wine industry come together for a changemaking conversation to set a standard for sustainability and climate action that stimulates aspirational change. The unique synergies and shared vision between Charles Krug Winery and Napa RISE allow for a continued partnership guided by protecting and enhancing the health of the region's wildlife and plants.
"Sustainable business practices are imperative to our winery and everyday operations. As a lifelong resident of the Napa Valley, I've seen the positive effects in our vineyards, and I'm proud that we've protected the wildlife and plant life in our region and continue to foster being stewards of the land," says Marc Mondavi, Co-Proprietor. "As we pass the business on to our fourth generation and they to the next, it is vital to continue this vision – to foster environmental stewardship of the land."
As a certified Napa Green winery under both the Napa Green Vineyard and Napa Green Certified Land programs, Charles Krug Winery has implemented a variety of sustainable farming practices and green initiatives throughout its business from the vineyards to its everyday operations. From creating a customized farm plan that addresses its vineyard and non-farmed land to installing 4,400 solar panels on top of the winery to generate 40% of its power needs, Charles Krug Winery's dedication to sustainability is embodied throughout all aspects of its property.
"Recognizing that high-quality winemaking begins in the vineyard, we at Charles Krug Winery will continue to innovate and develop our green initiatives, keeping environmental conservation at the forefront of our family business," says Peter Mondavi Jr. Co-Proprietor. "And executing against these sustainable business practices are critical for succession planning and important to the future of our family legacy."
About Charles Krug:
In 1943, Italian immigrants Cesare and Rosa Mondavi purchased the historic Charles Krug property, the oldest winery in the Napa Valley and longest-running tasting room in California. The brand was built on a foundation of family values, hard work and a European winemaking tradition; it remains a family-owned winery today, producing estate-driven, top of the line Napa Valley wines. Guided by a vision of protecting the land, the Mondavi family is committed to fostering environmental stewardship. The winery is under the direction of Peter Mondavi Jr. and his brother, Marc Mondavi, who steward the family business passed to them by their father, legendary Napa Valley wine icon Peter Mondavi Sr. Today, the Charles Krug winery is a majority woman-owned business as the family has proudly welcomed members of the fourth generation. Together, the family continues the legacy that started 80 years ago and is setting a foundation for the fifth generation, and generations to come. For additional information, please visit https://www.charleskrug.com/.

Share article on social media or email: