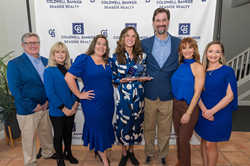 With a constantly shifting market, our team has continued to ride the wave of success by educating ourselves and keeping a close pulse on market activity.
KILL DEVIL HILLS, N.C. (PRWEB) March 14, 2023
Coldwell Banker Seaside Realty is excited to announce the VanderMyde Group as winner of the firm's Team of the Year award for 2022.
In addition to being the Top Producing Team for the Kill Devil Hills office, the VanderMyde Group led the firm in the most units sold with a total of 115 units equaling $93 Million in sales volume. The VanderMyde Group was also the #1 Listing Team of the Year and earned the 2022 Coldwell Banker International President's Elite Team award—a prestigious recognition given only to the top 7% of all sales associate/representative teams worldwide.
Led by Heather VanderMyde, who is Ranked #2 out of 682* producing agents in the Outer Banks Association of Realtors MLS, the VanderMyde Group includes agents Kiirsten Farr, Will Greg, Kasey Rabar, and Trish Berruet. Saska Zivkovic is the team's assistant and John VanderMyde provides professional HDR photography, drone video, and images for their listings.
"The market started off strong in 2022 with multiple offers and buyers offering at, or above, asking price. Even though buyers began taking a more methodical approach to making offers as interest rates increased, the low inventory in our market helped maintain high property values.
Our team has worked vigorously the past two years with the increased activity due to the pandemic. With a constantly shifting market, our team has continued to ride the wave of success by educating ourselves and keeping a close pulse on market activity. Since we are a high-volume team selling close to 2.5% market share, we see the trends before they become a trend. This helps us educate our buyers and sellers, keeping them ahead of the game and making the smartest decision for their real estate needs.
We have doubled our business in the past 3 years but have still been able to maintain the same level of client satisfaction. When sellers hire us, we provide them with a detailed marketing plan highlighting the steps we take to market and sell their property. In 2022 we continued to market our listings with video and professional photography, regardless of the shorter days on market. Our client's success and happiness are our number one priority," says Heather.
"This is the 6th year in a row that the VanderMyde Group led our company in listings, units sold and sales volume. Even with the softening of the market compared to 2021, they managed to increase their production year over year. Heather's team truly recognizes the value of innovative marketing and even led our firm in creating the most property videos for their sellers in 2022.
The VanderMyde Group is focused on both the growth and achievement of their individual members while also remaining committed to the successful closing of their buyers and sellers. The entire management team at Coldwell Banker Seaside Realty enjoys working with Heather and her fantastic team," says Pamela Smith, Vice President of Coldwell Banker Seaside Realty.
About Coldwell Banker Seaside Realty:

Family owned and operated for over three decades, Coldwell Banker Seaside Realty offers top-tier real estate services to buyers and sellers across the entire Outer Banks and northeastern North Carolina. Coldwell Banker Seaside Realty's dynamic team has earned a reputation as a premier real estate firm thanks to their local expertise and commitment to utilizing the latest technology. With the resources and support of a worldwide brand like Coldwell Banker, one of the most influential real estate franchises in the world, it is not surprising that Coldwell Banker Seaside Realty has sold the most real estate on the Outer Banks for 9 consecutive years**. Continuing to lead the Outer Banks market, Coldwell Banker Seaside Realty was also the top selling firm in sales volume for 2022.
*As reported by the Outer Banks Association of REALTORS MLS 1.1.22 – 12.31.22

**As reported by the Outer Banks Association of REALTORS MLS 1.1.14 – 12.31.22
###
Share article on social media or email: