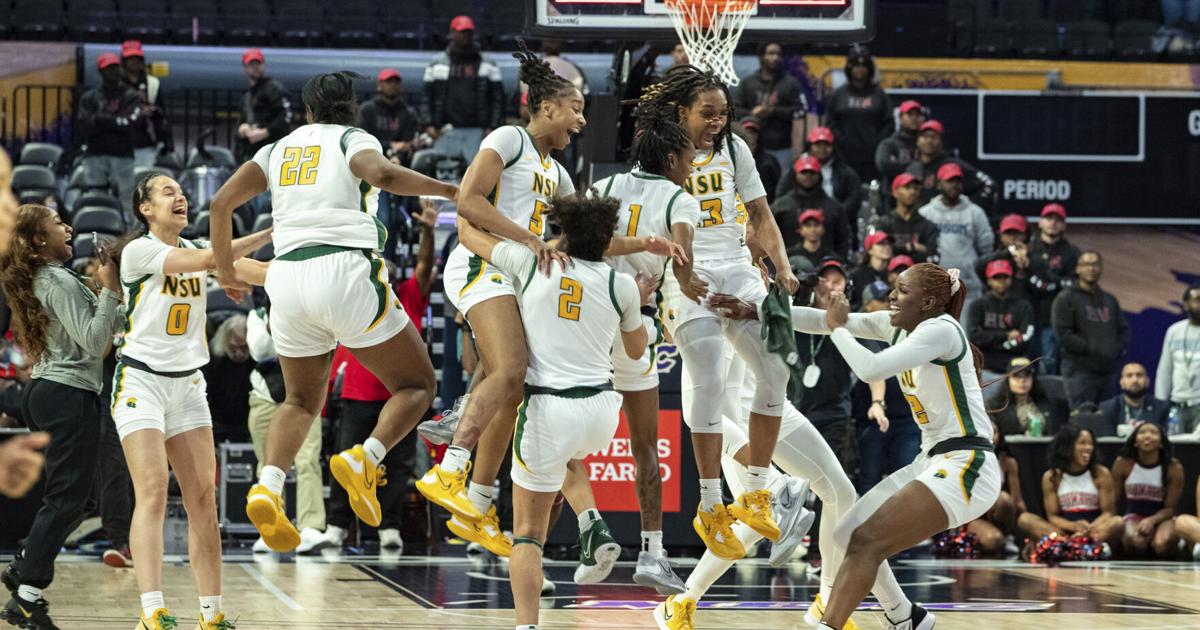 When Jacqie McWilliams sat at a table with other college sports leaders three years ago to discuss name, image and likeness, she thought about what the life-changing legislation would look like for historically Black colleges and universities.
With less government funding and fewer resources than Power Five schools, historically Black schools have a harder time recruiting top athletes. NIL, with little uniformity in how it is enforced across states, schools and regions, has widened that gap.
So, the commissioners of the four major HBCU conferences — the Central Intercollegiate Athletic Association (CIAA), Mid-Eastern Athletic Conference (MEAC), Southwestern Athletic Conference (SWAC) and the Southern Intercollegiate Athletic Conference (SIAC) — recently agreed to work more closely together in partnering with professional sports leagues, including the NBA and NFL, to increase the value of HBCUs and send more athletes to the pros.
"We are doing it in collaboration knowing that we have strength as a collective," said SIAC Commissioner Anthony Holloman. "We know when we play our conferences, compete, it's a game, but on all other days we are rooting for each other."
McWilliams, who is in her 10th year as commissioner of the CIAA, a league composed of 12 HBCUs in Division II, has seen NIL make way for schools to help student athletes turn their creativity into money.
The Gulf Coast Athletic conference (GCAC), an HBCU league in the National Association of Intercollegiate Athletics, partnered with the NIL marketing company Athlyt and the media company Urban Edge network to create NIL deals for student athletes.
"That's helping us to now enhance a lot of things, our conference operations," said GCAC Commissioner Dr. Kiki Barnes, "and what we're able to do for our student athletes."
They're now finding those opportunities amid the backdrop of unprecedented attention for HBCUs.
Men's basketball athletes from HBCUs Texas Southern and Howard will compete on the NCAA's national stage this week.
The Tigers, who won the SWAC's conference tournament, will face Fairleigh Dickinson in the First Four of the NCAA Tournament on Wednesday evening, with the winner advancing to face No. 1 seeded Purdue in the first round. Howard, winner of the MEAC conference tournament, will take on another No. 1 seed in Kansas on Thursday. Norfolk State's women's basketball team defeated Howard in the MEAC conference tournament to advance and face overall No. 1 South Carolina on Friday.
Deion Sanders, now Colorado's football coach, helped fuel a resurgence of HBCU popularity when he was at Jackson State University in Mississippi.
Dr. J. Kenyatta Cavil, a professor at Texas Southern who focuses on HBCU athletics, said Sanders' star power, coupled with the racial reckoning following the 2020 murder of George Floyd, allowed more resources to pour into Black schools.
"Some people have their popularity, but (Sanders') openness to provide his thoughts, a sound bite, which everybody was driven to see 'What does this mean?'" Cavil said. "And it really shot HBCU programs into this atmospheric rise."
The SWAC conference, which plays in the Football Championship Subdivision (FCS), leads all HBCU conferences in total NIL earnings, ranking 21st in athlete compensation, according to data compiled by the NIL technology and marketing company Opendorse.
Jackson State's popularity is a big reason for that. The school led the FCS in football attendance last season, drawing over 42,000 attendees per game.
Sanders' son Shedeur, formerly Jackson State's starting quarterback before he transferred to Colorado, became the first HBCU athlete to land a partnership with the sports fuel drink Gatorade last year.
"Obviously we haven't gotten into the collectives that some of the major institutions have been able to garner," said SWAC Commissioner Dr. Charles McClelland, "but it levels the playing field at least slightly, knowing that a student athlete could come to one of our HBCU institutions and still benefit from the name, image and likeness process."
McClelland said the introduction of NIL coupled with the rise of the transfer portal has brought more athletes to his league, which is also comprised of popular HBCU Grambling State and in 2021 added Florida A&M and Bethune Cookman University.
Texas Southern, for example, has several transfers on its men's basketball roster, including its second-leading scorer John Walker III. Walker, who averaged 12.6 points this season as a graduate student, transferred to the Tigers after spending his freshman season at Texas A&M.
"Even if you decide to go to a Power Five school straight out of high school, and you change your mind to say, 'Hey, I think I want to play immediately … I want to have these opportunities as a freshman or as a sophomore.' The transfer portal now allows student athletes to do so," McClelland said.
Some HBCU conferences haven't been able to dedicate as much time to NIL.
MEAC Commissioner Sonja Stills said her conference has partnered with influencers to educate athletes on the responsibilities of signing marketing deals, but overall, her focus is on upgrading facilities, providing more athlete scholarships and being able to fully fund Olympic sports teams.
"It's other things that we need to prioritize before we prioritize name, image, and likeness," Stills said.
Stills added that her league doesn't have the financial capital to compete in the NIL space in the same way as bigger schools anyway, which she sees as a negative affect for recruitment.
"We don't call up the alumni and say, 'Hey, I want $12 million for all the student athletes for NIL," Stills said. "We can't do that. So it's the difference of widening that gap. Student athletes look at where they want to go to school based on what the NIL deal could be at that particular school. So it definitely puts us at a disadvantage."
McWilliams doesn't believe it's necessarily a goal for HBCUs to compete monetarily with their Power Five counterparts, adding that the playing field will never be completely even anyway.
Holloman said the transfer portal is one of the toughest aspects in college sports to navigate because it has made it much easier for schools with larger budgets and better facilities to pluck the talent that they develop at smaller schools.
But that is a reality that is not new for HBCUs.
"The NIL, the transfer portal, who will it benefit the most, and who will it hurt the most?" McWilliams said. "It could help us. But it could hurt us. But we've been dealing with that for a hundred and sixty-something years."
#lee-rev-content { margin:0 -5px; } #lee-rev-content h3 { font-family: inherit!important; font-weight: 700!important; border-left: 8px solid var(–lee-blox-link-color); text-indent: 7px; font-size: 24px!important; line-height: 24px; } #lee-rev-content .rc-provider { font-family: inherit!important; } #lee-rev-content h4 { line-height: 24px!important; font-family: "serif-ds",Times,"Times New Roman",serif!important; margin-top: 10px!important; } @media (max-width: 991px) { #lee-rev-content h3 { font-size: 18px!important; line-height: 18px; } } #pu-email-form-breaking-email-article { clear: both; background-color: #fff; color: #222; background-position: bottom; background-repeat: no-repeat; padding: 15px 0 20px; margin-bottom: 40px; border-top: 4px solid rgba(0,0,0,.8); border-bottom: 1px solid rgba(0,0,0,.2); display: none; } #pu-email-form-breaking-email-article, #pu-email-form-breaking-email-article p { font-family: -apple-system, BlinkMacSystemFont, "Segoe UI", Helvetica, Arial, sans-serif, "Apple Color Emoji", "Segoe UI Emoji", "Segoe UI Symbol"; } #pu-email-form-breaking-email-article h2 { font-size: 24px; margin: 15px 0 5px 0; font-family: "serif-ds", Times, "Times New Roman", serif; } #pu-email-form-breaking-email-article .lead { margin-bottom: 5px; } #pu-email-form-breaking-email-article .email-desc { font-size: 16px; line-height: 20px; margin-bottom: 5px; opacity: 0.7; } #pu-email-form-breaking-email-article form { padding: 10px 30px 5px 30px; } #pu-email-form-breaking-email-article .disclaimer { opacity: 0.5; margin-bottom: 0; line-height: 100%; } #pu-email-form-breaking-email-article .disclaimer a { color: #222; text-decoration: underline; } #pu-email-form-breaking-email-article .email-hammer { border-bottom: 3px solid #222; opacity: .5; display: inline-block; padding: 0 10px 5px 10px; margin-bottom: -5px; font-size: 16px; } @media (max-width: 991px) { #pu-email-form-breaking-email-article form { padding: 10px 0 5px 0; } } .grecaptcha-badge { visibility: hidden; }