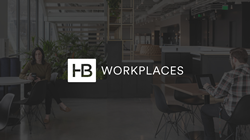 "Building upon the 43-year legacy of Henriksen Butler and embracing recent developments in the marketplace, including the acquisition of Knoll by Herman Miller, we feel that now is the perfect time to evolve our own brand to better represent who we are and the work we do for our customers."
SALT LAKE CITY (PRWEB) March 13, 2023
Today, Henriksen Butler (also known as HB) has changed its name to HB Workplaces along with a new branding identity, symbolizing the evolution of the brand over the past 43 years. This evolution is rooted in its belief in the power of place and its mission to help realize the potential of its client's spaces by creating workplaces that look and feel as good as they function.
The HB Workplaces rebranding encompasses a new logo, tagline, and website address at hbworkplaces.com.
In 1980, Ron Henriksen and Steve Butler sought to enhance the design of local businesses' spaces by providing thoughtfully-designed furniture from Herman Miller. Throughout the years, the brand has expanded its focus to meet the needs of architects, designers, developers, general contractors and end-users. With unparalleled customer service, an expansion of products, services, locations and more, HB Workplaces has become the largest full-scale, contract interiors company in the Intermountain West.
HB Workplaces successes include:

Maintaining their exclusive partnership award with Herman Miller since 1983
Providing the combined MillerKnoll portfolio of brands since the acquisition of Knoll by Herman Miller in 2021
Serving clients in six locations throughout Utah, Nevada and Idaho
Expanding its mission to support local industry professionals with research-led workplace strategy and insight
"Building upon the 43-year legacy of Henriksen Butler and embracing recent developments in the marketplace, including the acquisition of Knoll by Herman Miller, we feel that now is the perfect time to evolve our own brand to better represent who we are and the work we do for our customers," said Dave Colling, CEO of HB Workplaces.
Even though the name is changing, HB Workplace's mission remains the same. With a team of experienced workplace consultants, strategists, and collaborators, HB Workplaces helps bring its customers' vision and goals into focus.
"At HB Workplaces, we believe that great spaces lead to great outcomes. We believe that workplaces should support communities of people creating, innovating, connecting and thriving. We believe in the power of collaboration to yield better ideas and outcomes," said Megan Corrent Langford, VP of Marketing at HB Workplaces. "Rebranding to HB Workplaces provides us a clear direction as we continue to evolve and reimagine the workplaces of the future."
See how HB Workplaces can fully service your workspace needs in Utah, Nevada, and Idaho.
About HB Workplaces
Formerly known as Henriksen Butler, HB Workplaces collaborates with architects, designers, and clients to turn everyday spaces into thriving workplaces. Our mission is to realize the potential of our clients' spaces by creating workplaces that look and feel as good as they function. Experience HB Workplaces at our showrooms in Salt Lake City, Las Vegas, Boise, Reno, and St. George. Like us on Facebook, follow us on Instagram and LinkedIn, and visit our website at hbworkplaces.com.
Share article on social media or email: