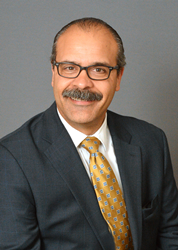 "Jim Benedict is an exceptionally talented, highly accomplished health care leader with a proven track record of successfully managing complex organizations, building high-performing teams, and helping institutions execute winning strategies to fulfill their mission," said Dr. Bruce Meyer.
PITTSBURGH (PRWEB) March 18, 2023
Highmark Health today announced that Allegheny Health Network (AHN) Chief Operating Officer James Benedict has been appointed as president of the network, effective immediately. AHN is the Western Pennsylvania provider arm of Highmark Health, a Pittsburgh-based health and wellness organization that offers Blues-branded health insurance solutions in four states.
Benedict (JD, CPA, MAFIS, FACHE) joined AHN as its executive vice president and COO in 2017 and was one of the chief architects of the network's successful operational turnaround and its nearly $2 billion capital investment and market expansion strategy.
That campaign to date has resulted in the considerable expansion of AHN's clinical footprint, including the construction of AHN Wexford Hospital and four new neighborhood hospitals; six new cancer centers; multiple new multispecialty Health + Wellness Pavilions and other outpatient facilities; and significant investments in the capabilities of many existing AHN facilities.
In July 2020, Benedict moved to parent company Highmark Health, serving as its executive vice president, Living Health Partnerships and Operations, where he steered enterprise efforts to redesign the health care delivery system and help develop the organization's "Living Health" model. During that time, he was also an important driver of Highmark Health's and AHN's COVID-19 pandemic response strategy.
To help address the many challenges facing the provider industry today, Benedict returned to his AHN COO role in late 2022 and in his new capacity as AHN president he will continue to report to Bruce A. Meyer, MD, MBA, executive vice president and Western PA market president for Highmark Health.
"Jim is an exceptionally talented, highly accomplished health care leader with a proven track record of successfully managing complex organizations, building high-performing teams, and helping institutions develop and execute winning strategies to fulfill their mission," Dr. Meyer said. "As AHN's president, Jim and his team will help further transform AHN into the provider pacesetter of our Living Health model, creating and supporting the clinical infrastructure and blended payer-provider solutions that deliver better value, better experiences and better outcomes for those we serve."
A 30-year veteran of the health care industry, Benedict has extensive experience in hospital operations, physician practice management, and ambulatory operations, with previous executive leadership roles in nonprofit, public, academic, and international medical settings. He came to AHN in 2017 from TeamHealth, where he served as the executive vice president of anesthesia for U.S. operations and before that held various roles at the Cleveland Clinic and University Hospitals of Cleveland.
"It is an incredible honor and privilege to lead AHN and be part of this unique journey with Highmark Health to create a more effective, patient-centric and economically sustainable health and wellness model for the country," Benedict said. "The challenges we face in our industry have been an inspiration to all of us who have spent the last several years building AHN's foundation, improving the health experiences of our patients and making Western Pennsylvania a healthier place to live. We still have a lot to do, but I am extremely proud of what our clinicians and the AHN/Highmark Family has accomplished to date and look forward continuing this vital work in improving equitable access to high quality, affordable healthcare alongside AHN's and Highmark Health's remarkable leadership and caregiving teams."
Benedict received his undergraduate degree from Baldwin Wallace University in Berea, Ohio, a Master's in Accountancy from Cleveland State University, and his law degree from The Cleveland State University College of Law. He is also a non-practicing certified public accountant in Ohio, is admitted to the Ohio Bar and is a Fellow in the American College of Healthcare Executives.
###
About the Allegheny Health Network:

Allegheny Health Network (AHN.org), is an integrated healthcare delivery system serving the greater Western Pennsylvania region. The Network is composed of 14 hospitals, ambulatory surgery centers, Health + Wellness Pavilions, multiple employed physician organizations, home and community-based health services, a research institute, and a group purchasing organization. The Network provides patients with access to a complete spectrum of advanced medical services, including nationally recognized programs for primary and emergency care, trauma care, cardiovascular disease, organ transplantation, cancer care, orthopedic surgery, neurology and neurosurgery, women's health, diabetes, autoimmune disease and more. AHN employs approximately 21,000 people, has more than 2,600 physicians on its medical staff and serves as a clinical campus for Drexel University College of Medicine and the Lake Erie College of Osteopathic Medicine.
Share article on social media or email: