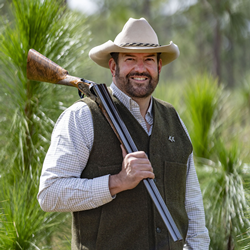 "My lifelong passion is to see these lands' legacy continue as we celebrate great stewardship and continue to uplift this niche," said Jon Kohler upon receiving the award.
TALLAHASSEE, Fla. (PRWEB) March 30, 2023
Jon Kohler, with Jon Kohler & Associates from Lamont, FL, has been recognized as the APEX 2022 National Broker of the Year in Recreational Land Sales and an APEX 2022 Top 20 National Producer by the REALTORS® Land Institute as a part of the RLI APEX Production Awards Program, sponsored by The Land Report. Kohler was recognized by RLI CEO Aubrie Kobernus, MBA, RCE, as well as The Land Report's Co-founders Eddie Lee Rider Jr. and Eric O'Keefe at a special awards ceremony on Tuesday, March 7, during RLI's 2023 National Land Conference (NLC23) in Denver, CO. Jon Kohler & Associates closed a total of $177,927,878 and 27,319 acres in 2022.
"We are incredibly proud of Jon for his accomplishments in 2022. It takes a significant amount of transaction volume to achieve a National Broker of the Year award. It speaks to his dedication to both the industry and his clients. He is truly among the most accomplished professionals in land real estate," said Aubrie about the winners.
The APEX Awards Program celebrated its sixth year by welcoming 217 applicants with a combined $7.0+ billion in qualifying transaction volume. All land professionals recognized as part of the RLI APEX Awards Program are active members of RLI. The 2022 APEX Top 20 Award winners were ranked within the top 20 applicants by qualifying production volume, starting at around $70.8M in production volume. For more information on the award winners, make sure to get a copy of The Land Report, one of the industry's leading magazines for landowners and land professionals, which will be publicizing the top winners in their upcoming Spring 2023 issue. All land real estate professionals are invited to join RLI and apply to the prestigious APEX Awards Program next year. Winners of the 2023 APEX Awards will be announced at RLI's 2024 National Land Conference next March in Louisville, KY.
About Jon Kohler & Associates: Jon Kohler & Associates is the leading authority on hunting plantations, ranches, and high-quality properties representing the best land stewards in the Southeast. With three decades specializing in this niche, the real estate brokerage, marketing, and advisor firm is best known as the preeminent source of knowledge of high-quality land, unmatched marketing, and representing the top properties in this niche. Their primary focus is to ensure good land stewardship is financially rewarded. https://jonkohler.com/
Share article on social media or email: